Ostrich Meats Recipes

Ostrich Fillet with salsa verde

Ostrich Sautée Fillet green peppercorn

Ostrich Fillet with Braised Endives

Beef tenderloin "Dog" with corn relish

Kabobs
---
Pasta Recipes

Mango Salsa

Chunky Tomato Sauce

Bourbon Creme Sauce
---

NEVER COOK OR THAW OSTRICH MEAT IN THE MICROWAVE.
---

GRILLING


Once your outside grill has achieved a "hot grill" temperature, sear each side for one minute. Then cook 3-4 minutes per side for medium to medium rare. The fillet is done when the meat juices stop bubbling through the top. It is always best to turn your fillets with tongs. A fork will allow the juices to escape through the puncture holes.

Burgers should cook 4 minutes
per side only.
---

SAUTÉING


Use a hot iron skillet for proper heat levels. Heat the pan to hot. Add a little olive oil or butter (and perhaps some green peppercorns--see the recipe above). Cook for 2 minutes on that side. Turn, cover, and turn off the heat. The steak will continue to cook for another 4-5 minutes.
---

BROILING


Pre-heat the oven at the Broil setting. Place your fillet 3-4 inches from the broiler. Cook 2-3 minutes per side.

Keep in mind that Ostrich meats contain little or no fat. Overcooking can happen in just a minute and will just cook away the juices.
---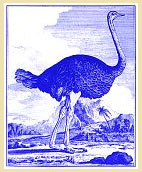 ---
BLUE HEAVEN OSTRICH FILLET
with SALSA VERDE

Use a hot iron skillet for proper heat levels. Heat the pan to hot. Add a little olive oil or butter. (and perhaps some green peppercorns--see the recipe below). Cook for 2 minutes on that side. Turn, cover, and turn off the heat, The steak will continue to cook for another 4-5 minutes.

Salsa Verde - A piquant green sauce, as the name suggests. Fresh herbal taste in an emulsion of olive oil.

Italian flat-leaf parsley forms the base, any herbs may be used along .

1 cup Italian leaf parsley leaves, loosely packed
1 TBS. fresh oregano leaves
1 t. fresh rosemary leaves
1 TBS. fresh lemon thyme leaves
6 anchovies, drained
2 large cloves garlic, smashed
3 large pimento stuffed green olives
4 green onions, cut into 1/2" pieces
1 TBS. red wine vinegar
1 TBS. fresh lemon juice
1 TBS. capers, drained
Black pepper, freshly ground
1/3 cup extra-virgin olive oil

Place all the ingredients, except oil, in a food processor and pulse until evenly chopped. With motor running, add the olive oil to emulsify the sauce. Serve with fillet.


---
Sautéed Fillets with Green Peppercorn

Pre-heat pan to HOT. Add 2 TBS. of olive oil and a generous sprinkling of green peppercorns. Sear one side of the fillet for 2 minutes, turn fillet and cover the pan and turn off the heat and let rest for 4 minutes.


---
Active: 30 Min; TOTAL: 45 MIN

4 SERVINGS

1-cup fresh corn kernels (from 2 ears)
1/4 Cup finely diced red bell pepper
2 tablespoons finely diced red onion
2 tablespoons finely diced celery
¼ cup cider vinegar
1 1/2 teaspoons sugar
Salt and freshly ground pepper
3 tablespoons canola oil
½ teaspoon minced garlic
½ teaspoon sweet paprika
½ teaspoon dry mustard
¼ Teaspoon cayenne pepper
One package of four, 2 oz. tenderloin strips

1 baguette halved lengthwise and cut into four 6-inch pieces

Light a grill; bring a small saucepan of water to boil. Add the corn and cook for 2 minuets. Drain and cool under running water. Shake off the excess water and pat the kernels dry. Transfer to a bowl and add the bell pepper. Onion and celery.

In the same saucepan. Heat the vinegar, sugar and a generous pinch each of salt and pepper just until the sugar dissolves. Pour the vinegar over the vegetables and refrigerate the corn relish until chilled.

In a bowl, stir the oil, garlic, paprika, mustard and cayenne; season generously with salt and pepper. Using a very sharp knife, quarter the tenderloin lengthwise to form 4 long "dogs." Rub with half of the seasoned oil. Brush the cut sides of the sides of the bread with the remaining seasoned oil.

Grill the stips over high heat, turning occasionally for about 4 minutes per side. Grill the baguette, oiled side down, until lightly toasted. Serve the beef tenderloin strip on the toasted baguette, topped generously with the corn relish.



---
Kabobs

Four giant chunks (that can really be cut in half), grill your kabobs on a screwer interchanging the kabob pieces with red onion, yellow pepper, tomatoes, or any veggies. Or go tropical with fruits, pineapple, challots, pears and apples.


---
Ostrich Fillet with Braised Endives

Place a tablespoon of oil to a hot skillet and add the meat and the marinade to the skillet. Cook about three minutes on each side and serve with Braised Endives.

2 Tbs. reduced sodium soy sauce
1 tsp. grated fresh ginger
1 tps. Sesame Oil
Dash of rice cooking wine
Dash Orange or Pineapple Juice
Marinate for one hour prior to cooking

Braised Endives - Put the butter in a nice heavy bottomed frying pan and heat until it is frothing. Slice the endives in half lengthwise and add them to the pan, keeping the heat relatively high so that the butter browns (but does not burn!) and the edges of the endive caramelize. After a few minutes, when you really think you are in danger of burning the butter and/or the endives, turn down the heat to low and pour in the chicken broth. Sprinkle the sugar and lemon juice over the endives and cover loosely. Simmer for 20 minutes or until tender. Salt and pepper to taste.

3-4 Belgian endives (enough to fill your frying pan snugly when sliced in half lengthwise)
3-4 Tbs butter
1 cup chicken broth
2 Tbs (roughly) lemon juice
1 scant tsp sugar
salt and pepper to taste


---
Fruity Ostrich Casserole

METHOD

Cook the meat and onion in a little stock over medium heat until brown, set aside.
Add all remaining ingredients
Simmer for an hour and fold in the meat
Serve on a bed of rice with seasonal vegetables

INGREDIENTS

500 g ostrich meat for stewing
2 onions, peeled and chopped
375 ml (1 1/2 cups) beef stock
5 ml (1t) salt
pinch of ground black pepper
5 ml (1t) dried oregano OR
15 ml (1T) freshly chopped oregano
125 g dried apricots, chopped
125g prunes, pitted and chopped
15 ml (1T) soya sauce
30 ml (2T) wine vinegar

Protein (g): 29
Fat (g): 12
Carbohydrates (CHO): 46
Energy (Kj): 1241

DIETITIAN'S TIP

Ostrich meat is low in fat, with 100g of cooked ostrich providing the same small amount of fat as a skinless, filleted chicken breast - beef providing double this amount and lamb almost 3 times as much fat. It is also low in saturated fat, which we know contributes to increased blood cholesterol levels. Ostrich, like most other fresh meat cuts, provides a wonderful source of protein and iron. The type of iron is about 5 - 10 times more available for absorption that the form found in plants. Iron is beneficial in the prevention of some anaemia's.

RECIPE SOURCE:

From "The Lean Aubergine" by Karen Protheroe and Moira van der Linde


---
---
---
Mango Salsa

Southwestern Style Ravioli with Mango Salsa.

For Salsa, combine the following:

1 cup peeled cubed mango
1 cup cubed seeded tomato
1/2 cup finely chopped green onion
1/4 cup finely chopped cilantro
2 TBS. olive oil
2 TBS fresh lime juice
1 jalopeÒo pepper, seeded and minced fine
1/2 t. salt
Fresh ground pepper

(Salsa may be prepared 2 hours ahead)


---
Italian Organic Herb

Italian Organic Herb Ravioli with Chunky Tomato Sauce

Chop 3 cloves garlic finely
Sautée in 2 TBS. Olive Oil
Add one can DICED tomatoes (14.5 oz.)
Add 5-6 large basil leaves chopped fine
Simmer 10 minutes

---
Cranberry-Pecan

Cranberry-Pecan Ravioli with Bourbon Creme Sauce.

1 cup Milk
1 TBS. Cornstarch
2 TBS. Butter
1/4 t. salt
Several turns fresh ground pepper
1-2 TBS. Bourbon

Combine all ingredients except bourbon
Stir constantly on medium until boil
Boil 1 minute
Remove from fire and add bourbon
Dip individual raviolis in sauce, covering well
Spoon out
Add chopped cranberries, chives, pecans for garnish, if desired.